Debbie Edwards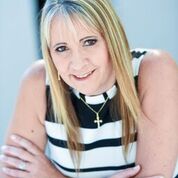 Debbie is an experienced Master Transformation and Career Coach, certified by the Transformation Coaching Academy, and a member of the International Coaching Registrar.  She has over five years' experience in Transformation Coaching, both in the United Kingdom and South Africa.  Experiences in all areas of life have supported her through this journey to help others.
With over two decades of communicating and interacting with personnel at all levels, in her roles as Human Resources Manager, she realised that too many people face depression, anxiety, various limiting beliefs, and emotions.  People at all levels have much self-doubt, anger, hurt, and experience sadness, depression, and anxiety.  This has a serious impact on people's emotional well-being, their mental state which also, affects their physical well-being.  Work pressure and family situations are negative, thus inhibiting people from living their best lives.
Along with the in-depth knowledge Debbie has gained over her life and corporate working experience, she has created a career path that she now loves and is inspired by every day.  This inspires her to do the same for others.  Debbie is an Entrepreneur owning more than one business which is Inspirational Futures and Inner Journeys which sells esoteric gifts, new and second-hand books in Edenglen, Edenvale (South Africa).
She is proud to have encouraged many people to reach breakthroughs in stress, anxiety, depression, and low self-esteem while raising people's emotional intelligence.  She is also inspired to guide others to follow their purpose in life so they unlock their true potential, and as a whole, they live a more fulfilled life.
Upcoming Constellation Workshops
26th of March
2nd of April
14th of May
4th of June
2nd of July
9th of July
6th of August
3rd of September
1st of October
5th of November
3rd of December
Time: 09h00 to 16h00
Venue: Inner Journeys and Inspirational Futures, Shop 9, 52 Harris Road, Edenglen